This is where we began in 2013. Samuel knew how hard it is to get through each day, having to deal with so much pain, fear and constant procedures, medication and side effects. Samuel wanted to give the kids on his ward something to look forward to, some freedom from the suffering and pain.
There is a huge gap in support for children with serious and complex conditions. According to the Royal College of Nursing 2020 report, only 25% of local authorities in the UK have a community children's nursing team. This statistic underscores the lack of essential services for sick children in the vast majority of local communities.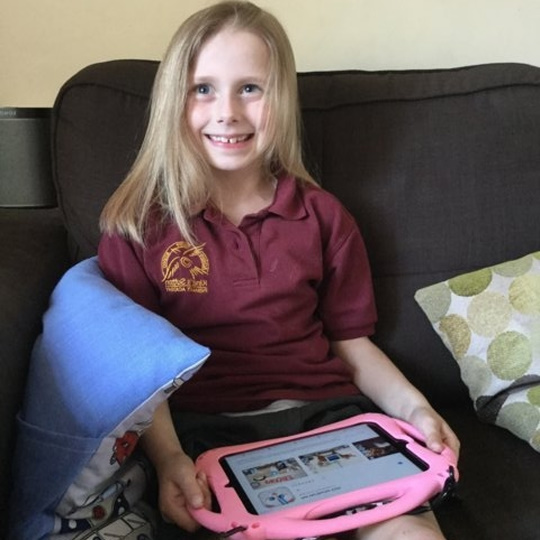 We are creating the Care @ Home service to support children once they have left hospital. We provide an experienced Community Care Co-ordinator for a local area.
Some of the things we do that make a difference, especially for those who are disadvantaged and poor as well as ill:
We provide economic and safe pain-relieving equipment approved but not provided by the NHS.
We provide games equipment and if needed, the wifi to run them
We provide tablets to support home/school communications for interactive education /creative play.
We provide support and information around transition from hospital; to home and vice versa.
We provide a monitored online hub for kids and parents to connect with others and feel they are not alone. The kids hub including games and educational tools etc as well as being able to play them with other kids, including those in a similar situation.
We help children feel more cared for and less lonely and scared, helping maintain friendships and develop new ones.
We help parents feel supported and help them to support their child, providing advocacy & financial advice to reduce helplessness and worry. We provide professional liaison with medical/hospital staff.
We work with partners to provide therapeutic approaches and trauma based interventions.
We provide sensory equipment and stress relieving toys and "tangles" - little things to make you feel special & thought about.
We fund what statutory authorities can't or won't provide; we don't duplicate. We complement other agencies and don't compete. Too much to do!
We work around nutrition and taste of food and getting the basics in – sleep and nutrition and love promote healing and reduce stress for everyone.
We organise and pay for child-friendly bed or care room decoration, to provide a child sensitive environment, where parents can't afford to do so.
It is very scary for a child to go into hospital, especially when it is a serous condition. The fear of the unknow and the prospect of so much medication and procedures is awful.
From the experience of Samuel's parents, and that of many others, we have created a kit to help the kids when they first arrive at hospital
We asked the kids what they needed and we created the kit for them with essentials:
Headphones. One of the most requested items. The best way to escape the noisy environment of a busty ward and watch a film or YouTube, talk with friends or just listen to music.
Eye Mask. With nurses and doctors coming in at all times of the day and night this is an essential item to be able to sleep when needed.
Ear plugs. Just like the eye masks, these can be so useful, especially when rest is needed.
Stress Ball. This is often the most used item (and parents pinch them too!). When things get stressful it is soothing to have a good stress ball to help.
Notepad & Pen. Sometimes kids find it's good to write about the journey they go through. Others like to draw or make lists about what they want their parents to buy them that day!
Mini games or cards. Top Trumps, Uno, playing cards - when screens just get to be too much this is a great way to interact or make friends on the ward